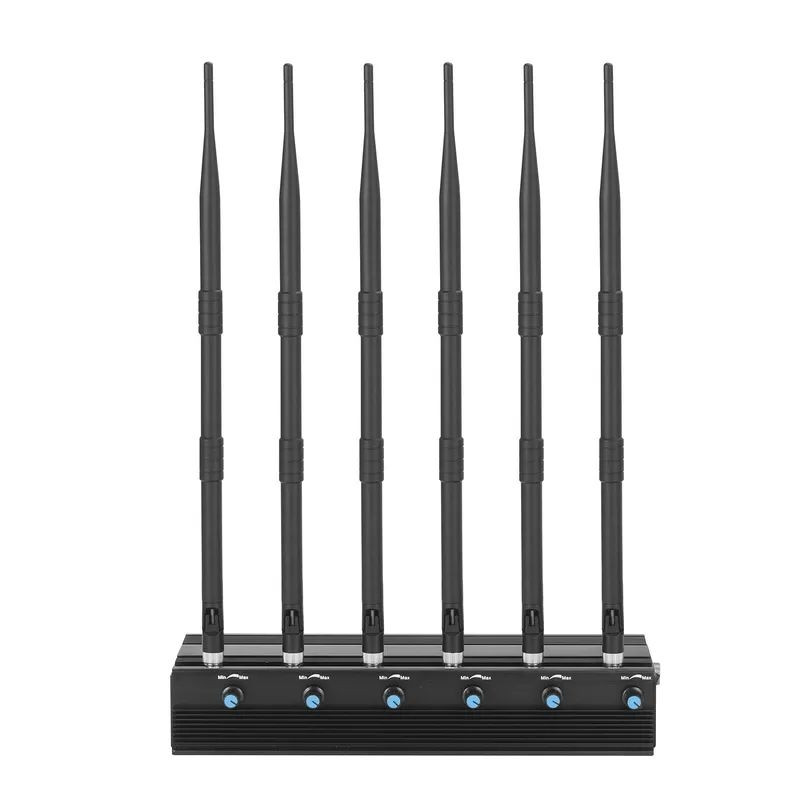  
20 Antennas 2G 3G 4G 5G Mobile Phone 3.5G 3.7G WiFi RF VHF UHF Lojack All Frequencies Cell Phone Signal Jammer w Remote Control
20 Antennas 2G 3G 4G 5G Mobile Phone including 3.5G 3.7G WiFi RF VHF UHF Lojack all Frequencies Cell Phone Signal Jammer with Remote Control | Material: Aluminum Alloy | Profuct: Desktop | Jamming Type: Cell Phone Signals,RF Signals,gps,wifi,433,315,868.5.2G.5.8G.3.5G.3.7G | Jamming Range: 40-60Meters@-75dbm
Security policy
(edit with the Customer Reassurance module)
Delivery policy
(edit with the Customer Reassurance module)
Return policy
(edit with the Customer Reassurance module)
This 20 antennas all-in-one desktop cell phone jammer is the private latest design of JinYaTong Technology. As the world first all-in-one 5G cellphone signal jammer with 3.5G, 3.7G,5G WIFI and Remote control,which can also block GSM, 3G, 4G, VHF, UHF, Wi-Fi, GPS, L1, L2, L5, LOJACK, 5.2G,5.8G,3.5G,3.7G, RF signals like 315,433,868,
this cellphone jammer can meet your target of most general type of affected frequencies.
High power with large cover range,up to 60 meters.Good cooling system with 5 cooling fans inside.It great for school classroom avoid exam cheat and oil/gas station keep in secure.
Blocking Frequencies:
1. CDMA 850-894MHZ 35dbm/3w
2. GSM 925-960MHZ 35dbm/3w
3. DCS/PCS 1805-1990MHZ 35dbm/3w
4. 868 868MHZ 35dbm/3w
5. 3G 2110-2170MHZ 33dbm/3w
6. WiFi 2.4G 2400-2500MHZ 30dbm/1w
7. 4G LTE 725-770MHZ or 790-826MHZ 35dbm/3w
8. 4G WINMAX 2320-2400MHZ or 2620-2690MHZ 30dbm/1w
9. Lojack 165-174MHZ 35dbm/3w
10. VHF 135-174MHZ 35dbm/3w
11. UHF 400-470MHZ 35dbm/3w
12. GPSL1 1570-1580MHZ 33dbm/2w
13. GPSL2-L5 1170-1230MHZ 33dbm/2w
14. GPSL3-L4 1370-1390MHZ 33dbm/2w
15. 315 315MHZ 35dbm/3w
16. 433 433MHZ 35dbm/3w
17. 3.5GHZ(5G Cell Phone) 3400-3600MHZ 30dbm/1w
18. 3.7GHZ(5G Cell Phone) 3600-3800MHZ 30dbm/1w
19. 5.2GHZ 5100-5600MHZ 30dbm/1w
20. 5.8GHZ 5600-5900MHZ 30dbm/1w
Advantages:
1,All in one with 20 bands frequency,including 5G cellphone signal jammer 3.5G,3.7G,5G WIFI.....;
2,With remote control,Remote switching is possible;
3,Good cooling system with 5 cooling fans inside;
4,Low noise;
5,Can adjust or turn off any single band without influencing the other bands operation ;
6,Work non-stopped;
7,Stable capability;
8,Could be used in car directly, with car charger;
9,Total output power: 52W;
10,Full set weight: 7.5kg
11,Power supply: AC 110V/220V and 12V cable to car battery;
12,Dimension: 450mm x 240mm x 60mm.
Application area:
1.It can be applied at meeting rooms, conference rooms, museums, galleries, theaters, concert halls, churches, temples, restaurants, classrooms, training centers, factories, banks, trains, bus and more
2.For some locations of special purpose such as hospitals, gas stations and more, please do field test first to make sure no interference happened to the normal operation of their equipment and instrument
Warranty: one year from delivery date
Accessories:
1 x Multifunction jammer
1 x AC adapter
1 x Car adapter
20 x Antenna
No customer reviews for the moment.